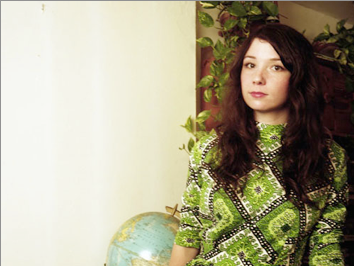 The following interview was conducted through various e-mails and text messages...
Jason- Who is Tickley Feather?
Tickley Feather- I come from the land of the long pig! I am edible and delectable.
Jason- So, can I refer to you as Annie in this interview or as Tickley Feather?
Annie- Please do refer to me as Annie, Jason.
Jason- Why the name Tickley Feather?
Annie- Tickley Feather is a name that sounds silly, and I like things that are silly.
Jason- Have you been tickled by feathers?
Annie- I have had the experience of traveling on the interstate behind a truckload of chickens. So not only have I been tickled by feathers, but also, have been blasted by them. The word "blasted" is funny!
Jason- So you recently "blasted" through Richmond, VA to finish your next album, how was the experience and how was it spending time in this city you once lived?
Annie- The experience was very nice, thanks. I loved working with John at The Etching Tin. He's really funny and he offered to cook me something on the grill one night, which is right out the back door, 4 feet from the mixing board. I was treated kindly by many old friends and new friends alike during my visit. I drank much more than usual during my last night out there, as usual. I would like to visit Richmond more now that I am living down south again.
Jason- What is the name of the upcoming record and when can we expect it to be released? Paw Tracks correct?
Annie- My upcoming record is going to be released on October 20th by Paw Tracks. It is my second full length and my first album with a title. The title is Hors D'oeuvres, a word with multiple spellings, that symbolizes hospitality and tiny snacks that do not stuff you.
Jason- So, will this album be edible?
Annie- I wish that were possible. Or at least for it to be made out of cardboard or something out of the ordinary. I heard people have made wooden records in the past. I will say that the album is on vinyl, which is round and at least as sturdy as a disposable plate, and could always be eaten OFF of if one found themselves in a pinch.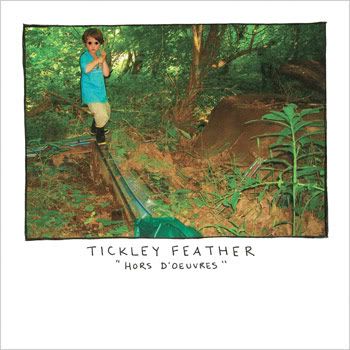 Jason- Is that your son Aiden on the new record cover? Is that how you spell his name?
Annie- Yes to both!
Jason- What touring plans do you have following the release of Hors D'oeuvres?
Annie- I will take this album on tour with me to Europe in November and sell it to Europeans! I'm still working on a US tour, for afterwards.
Jason- Were there any collaborators on the new recordings and will there be anyone accompanying you for touring?
Annie- This album just has me on it, not including mixing. BUT I would like to collaborate with someone at least for one project sometime in the future. Or, actually, I'd like to try working with a producer of some sort sometime. That might be neat. It'd be fun to get pushed around a little by someone who has ideas that are better than mine. Someone guided by that deck of cards that Brian Eno invented, maybe?
Touring: For various shows, I'll have AKASHA BLADE and SERPENTS OF WISDOM, both dudes who have incredible solo projects of their own. It feels really great to work with people who have skills and creativity that I trust and admire. You should look them up! Also, If Tim from MY MIND will do some shows again with us, I'd be totally happy. He has a special keyboard sense and also looks neat-o, in general. We did a few shows, the 4 of us, before I moved away from Philly, and I felt like it was really right.
Jason- What instruments are you using on the new album? I hear you play guitar this time!!!!
Annie- Guitar, keyboards, toy piano, a noisy thunder-sounding thing. I think that's it.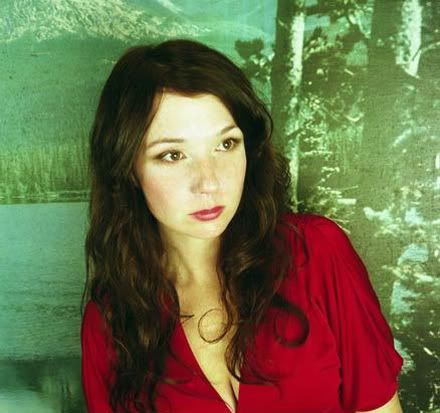 Jason- So you've moved from Philadelphia to rural VA, was it a positive move?
Annie- Yes, it's very good. I like it a lot.
Jason- What are the differences between living in (it's Staunton right?), VA and Philadelphia?
Annie- My favorite person I've seen here is an old man who is really hunched over and is always walking around with a garbage bag in one hand and i big old black umbrella, wide open, in the other. My favorite person I used to see in Philly was a big huge lady that wore really small, tight, close curlers in her hair and was always clapping her hands together joyously. Oh, but in Philly there was also this other lady who had electroshocked grey hair and screwed up looking makeup. She had a big crooked ring of red lipstick alllllll around the outside of her mouth. And blue eyeshadow alllllll around her eyebrows.
Jason- What are your releases thus far?
Annie-
Deaderna Doornail (tape, 3 copies) released by Diaper Records
Tickley Feather (random content CD, 10 copies) released by Diaper Records
Serpents Of Wisdom/ Tickley Feather split 7 inch Badmaster Records
Bermuda Triangles/ Tickley Feather split 7 inch C.N.P. Records
Tickley Feather s/t CD and LP Paw Tracks and Badmaster Records
Tickley Feather "Hors D'ouevres LP and CD Paw Tracks
Tickley Feather "B Sides and Bonus Tracks" (9/25) tape released by Diaper Records
a track on "Killer Workout Mix" comp CD C.N.P. Records
Jason- Have you ever had a pet turtle?
Annie- Yes, 2 box turtles for a few days. I fed them too much lettuce in the hot sun and I think they exploded.
Jason- If there were a movie made about TICKLEY FEATHER, who would you envision playing you?
Annie- Shirley Temple.
Jason- So, how tall are you anyway?
Annie- 3 feet 4 inches
Jason- What did you have for dinner last night?
Annie- Well last night it was classy. I made a roast and mashed potatoes and that long fancy broccoli. I tried to drink both of the beers in the fridge before my man got home and wanted one. I only got through 1 and a half. But I don't think he knew there were 2 to start with, so I'm ahead.
Jason- Alright, I think that covers it, thank you very much Annie!!!!
Annie- JASON, YOU EAT WEEEENERS.