CLOCKLEANER (OR: CLOCKCLEAN ER) – "Ready 2 Fight" LP (Fan Death).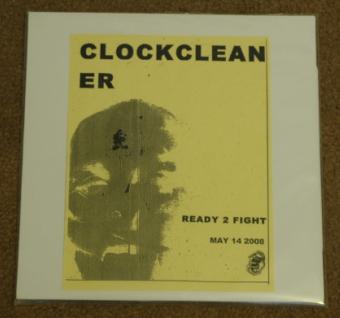 Every so often, I am lucky enough to succumb to the guilty pleasure of "wanting" something for no other reason other than aesthetics alone. When CLOCKCLEANER's "Babylon Rules" LP showed up at the local shop, I instantly found myself smiling at the completely unnecessary gatefold cover, which featured the three members faces with packaging tape wrapped around them, though mostly black otherwise. It was silly and absurd, but didn't look lame at the same time, kind of like the LP itself: sort of like the Cramps or a Albini'd out Pussy Galore or something, but completely / legitimately disturbing, sleazy a bit, though ironically one of the most accessible releases I've heard on Load Records in a long time.
Well anyway, that's is completely neither here nor there. Just a bunch of filler.
When I caught wind that, for whatever strange reason, Clockcleaner had been asked to open for Negative Approach, and that when doing so, they ended their set doing a 20 minute rendition of NA's "Ready to Fight", I was blown away and laughed about it sporadically for a day or two, until a short time later when I found out the cover was going to be released as a one-sided LP (appropriately titled "Ready 2 Fight"). (Then I pretty much died, and obviously sent the well deserved money to Fan Death Records for their premier release).
Although this is more than likely not something that will be pulled out very often to listen to, the sheer fact that such a perfect moment of absurdity was documented makes me feel very good. There's something to be said about a band that's playing in front of several hundred kids who probably really hate what they are doing already (do you really think the clientele of a Negative Approach reunion show wants to hear Clockcleaner at all?), and would then have the genius / guts to throw down a sloth like (the original is under two minutes), reverb soaked (the "Clockcleaner filter"), generally irritating rendition (unnecessary guitar leads / solos / feedback) of a song by the band they are being forced to sit through their annoyance to see. And then actually have it cut as an LP too? "Ready 2 Fight" indeed. (I can't believe that not a single person in the building tried to physically stop them at some point). An "(LOL)" would have been a welcome addition to the title too.
Highly recommended with complete and deserved weariness.


James Fella | Gilgongo Records PO Box 7455 Tempe, AZ 85281 USA